Dedicated To The
Success And Best
Interests Of Our Clients
Marriot Renaissance
Fort Lauderdale, Florida
Service, Leadership And Innovation
These Are The Hallmarks
That Set Abtech Engineering Apart
Bay County Waste to Energy Facility
Panama City, Florida
Abtech Engineering Inc.
Is A Full Service Design
Engineering Firm
Miami Dade Country Day School
Miami, Florida
Abtech Engineering Inc.
Is A Full Service Design
Engineering Firm
Palm Court
Miami, Florida
Dedicated To The
Success And Best Interests Of Our Clients
H. Aviation Hangers Fort Lauderdale International Airport
Florida
Service, Leadership And Innovation
These Are The Hallmarks
That Set Abtech Engineering Apart
Place At Dania Beach
Dania Beach, Florida
Abtech Engineering is one of the most trusted full service, multidisciplinary consulting engineering firms in the country, that was established in 1988.
We provide innovative, yet practical solutions for: Design of Structural, Mechanical, Electrical, Plumbing and Fire Protection engineering; Structural Steel Connection Design; Forensic Engineering; and Rehabilitations/restoration of structures and buildings.
About Us
Abtech Engineering Inc. is an outstanding design and forensic engineering firm offering services in structural, Mechanical, Electrical, Plumbing and Architectural Engineering of commercial, industrial and residential buildings since 1988. We offer quality service by a responsible group of professionals dedicated to the success and best interests of our clients.
We specialize in providing the 'total package' from the initial inspection and report, producing a complete set of drawings and specifications for repair and reconstruction right up to overseeing the successful completion of the project.
Over two decades of experience with widely diversified types of clients has provided us with the unique capabilities to provide complete design and forensic engineering services.
Service, Leadership and Innovation: These are the hallmarks that set Abtech Engineering apart.
Key Personnel
Babu Varghese, P.E., S.I.
President & Principal-in-charge
Has over 35 years of experience centered in the practice of structural engineering. His capabilities range from the concept stage through to final design and the construction administration of numerous commercial, industrial and institutional buildings. Additionally, his experience includes a focus on forensic engineering. He has continued to serve on the Florida Board of Professional Engineers since 2015, and was its vice-chair in 2019 and Chair in 2020.
For current in engineering license info click here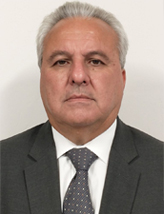 Ismael Leon, P.E.
V.P. of Mechanical, Electrical, Plumbing & Fire protection engineering
Has over four decades of diversified experience in code compliance, MEP design of low, mid and high-rise residential, commercial, airport and public buildings. He has extensive experience with renovation work and large mechanical & electrical system upgrades in industrial buildings. His responsibilities include project management, scheduling, and quality control of mechanical, electrical, plumbing and fire protection engineering services.